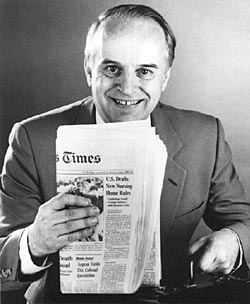 Stefan was graduated in psychology from Columbia University, New York. As an author, instructor of upper management, university professor (Douglas College, BCIT) and certified psychologist (R), Stefan uses his twelve years of ACTÙAL university studies as a consultant, seminar, convention director and key-note speaker.
Above all, Stefan is the creator of the innovative communication ground-breaking Winning Colors® process (not an inventory). Winning Colors® present innovative whole person behavioral identification process is a one of kind personality recognition and strategy providing instrument in contrast to TYPE based inventories such as Myers Briggs, DISC, True Colors and Kiersey-Bates. The five (5) minute process can be used alone or to operationalize lengthy Type Theory personality based inventories.
Universities Attended: University of Toronto, University of Laval, Columbia University, University of Chicago, Loyola University Chicago and University of British Columbia.
His expertise includes consulting, communication, keynotes, counseling, teaching, (University level) published articles such as the lead article for Toastmasters Magazine, radio and television interviews. Seminars and keynotes have included such clients as B.C. Pharmacy Conference, McDonald's, National Management Association, General Dynamics, Alaska Airlines, Rockwell and many others. Stefan was Director of Counseling and Guidance for over a dozen high schools and is presently the president and CEO of Aeon Communications, Inc. USA and Canada.
Of particular significance, is the tried and true APPLICATION of the Winning Colors® process by thousands of Military instructors and administrators over a 15 year period. In addition, the JROTC (Junior Reserve Officer Training Corps) and various school districts throughout the U. S. A. have used this research based instrument with tested positive results. Winning Colors® has been applied and has benefited two million + in the military and out: ADAPTED for youth leadership and team-building JROTC (Cards now published in Cadet Reference Manual) – 300,000 cadets every year since 1997.
Over 200 school districts, county boards of education, public and private schools, and other organizations have invested in the Winning Colors® Process and Conflict Resolution System, (What Color is Communication, Neilson & Thoelke) which has been included in Conover Company's communication software "The Success Profiler" since 2008.  Winning Colors® has been used by professionals around the world to accomplish everything from success in business, to character education, to dropout and bullying prevention. Latino leaders and population workshops in L. A. (Communicards are in Spanish) were trained in the Winning Colors® process.
The major hi-light of his career is the CONTINUED development of a positive profiling system, the Winning Colors® process.  Winning Colors® is based on and is the application of the solid research of behavior modification, expectancy theory, and client centered therapy, neural linguistics, expectancy theory, the works of Marshall McLuhan one of his mentors and knowledge accrued throughout the ages.
PUBLISHED TEXTS: What Color is Communication, Winning Professionally and Personally, Careers Unlimited, Character Education, Conflict Resolution Through Winning Colors, The Legacy of the Harry Potter Novels. Booklets: The Ultimate Communicator, Character Education, Color Me Rich – Color Me Wealthy. CDs: Music to Live By, Relax, Youth or Instructor's Guideline. "Communicards": Adult, Youth, Elementary, (Adult/Youth Spanish)
The Winning Colors®one-of-a-kind whole person process present behavioral identification process in contrast to all in vogue Type theory personality theory assessments gives you concrete strategies for identifying and bringing up winning and achievable behaviors within your capabilities as well as the best strategy for handling and managing any situation or relationship successfully.
Does your present profiling (assessment) system accomplish this in minutes? The Winning Colors®one process does just this.
"The illiterate of the future are not those who can't read or write but those who cannot learn, unlearn and relearn." –Alvin Toffler, American writer and futurist.
"Preconceived notions are the locks on the door to wisdom." Merry Browne, Writer.
Words for the Wise: Relevance … professionals who are emotionally attached to 20th century TYPE BASED assessments and not willing to check out a "Whole Person Alternative."