Break Away from the Gloom and Obscurity of Second-rate and Damaging Type Casting and Step into the Light of a Whole Person Assessment with the Winning Colors® Process. 
---
Instructors: Only you have permission to copy these support materials for your clients/students. Reproducing by anyone else is a breach of copyright and trademark.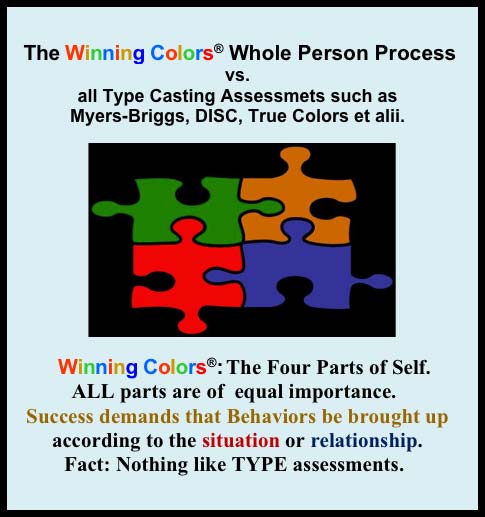 HANDOUT 1 – Unfortunately there is an emotional attachment to that to which you are exposed to first; thus a need to stick with what you already know. Why not compare?  If everything else fails PLEASE follow instructions. (pg. 1)
 "Be sure that you go to the author to get at his meaning, not to find yours." —Salman Rushdie
HANDOUT 2 – Crucial: Follow the 35 year time proven instruction given, verbatim and reap success.
HANDOUT 3 – Bottom-Line overview of the significance of each communicard.
HANDOUT 4 – Research and Psychological basis for the WinningColors® Process.
HANDOUT 5 – Why Adults Fail: Adolescence vs. Adult.
HANDOUT 6 – Check out your capacity to identify your and others behavioral biases.
HANDOUT 7 – Stress the Secret Killer.
HANDOUT 8 – History of Western Civilization.
HANDOUT 9 – Summation: Don't Just Think It!  Do It!